I'm using the newest Beta 47-3 on my Pixel 3 XL and noticed a screen-redraw issue after selecting multiple filters.
Issue: Shows are redrawn while selecting filters, but doesn't redraw to show the top row in multi-column view.
Device: Pixel 3 XL, landscape orientation
Explanation:
In my default view, screen capture 1, I have only one filter [-] Hidden.
I'm at the top row of the list of Shows and select Filter and toggle 3 items: [+] Continuing, [+] Unwatched, [+] Upcoming. As I touch each filter option, the screen refreshes to redraw the shows meeting the criteria. Screen capture 2 is from when I tapped the 3rd filter item, and note that "All American (2018)" is shown as the top row as a result of these filters.
After I close the filter view by tapping away, I find that I can scroll up to see that "All American" is not the first show in the results. Instead, as shown in screen capture 3, I find that "A Million Little Things" is really at the top of the list, but I have to scroll to see it.
Sort settings: In my setup Shows are sorted by TITLE and I don't have "Ignore Articles" selected.
Hopefully I explained this well. Any questions, please let me know.
Capture 1: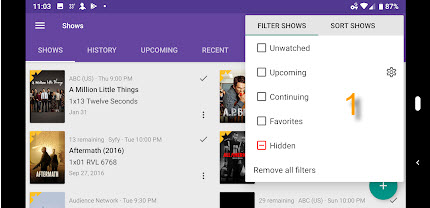 Capture 2: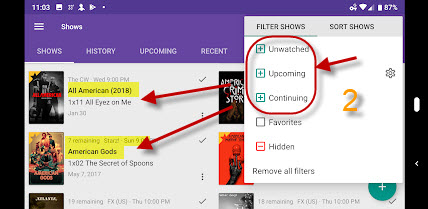 Capture 3: