Hi,
I use Seriesguide a lot to update m Trakt history and it worked great so far.
But I just realized that since Jan 4th 2023 none of my watched has been shown in "Verlauf" (sry using it in German) and nothing was pushed to Trakt.
No error messages at any point so far.
I receive updates from Trakt, so when I mark episodes there as watched, they appear in the Seriesguide "Verlauf" immediately.
When I remove the Trakt connection, Seriesguide "Verlauf" shows everything that I watched that is not shown when connected to Trakt. ("All you need" in left part of Screenshot was synced by marking as watched on Trakt).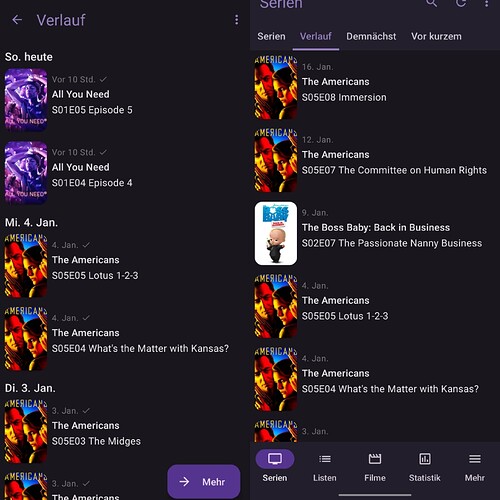 (on left connection to Trakt active, right connection disabled)
After looking around here I found out there were issues on Trakt end of last year. However, everything until Jan 4th is there.
I am only connected to Trakt (not Seriesguide cloud) and thanks to the tips here I have tried 2 things - without success…
I have already deconnected Trakt in Seriesguide and reconnected.
I have also revoked acces from Seriesguide through Trakt and reconnected.
I was hoping it might trigger a sync.
But even after that nothing I marked as watched in Seriesguide since Jan 4th has appeared om Seriesguide Verlauf when connected to Trakt or as watched on Trakt. Just marking it as watched in Trakt updates "Verlauf" in the Seriesguide app immediately.
Can't tell if it's an issue on Seriesguide side or on Trakt end, so starting here.
Thanks!