Hi,
it seems that shows are not updating from TheTVDB despite clicking manual update.
Do you experience the same?
Yes, I am seeing this with the new season of BoJack Horseman. Episode titles and descriptions not coming through on an update. Don't see any mention of API issues in TheTVDB forums. I am on the latest version (non-beta).
me too,I'm in the same situation
Yes, this is still an issue. It doesnt work for me on either Wi-Fi or LTE
If you can narrow this down to a specific show, try to remove and add that show again to see if that gets rid of the error.
I've gotten the same thing with Bojack Horseman yesterday 11/8 and today 11/9. I can't find it to add it or just to see its information. Odd.
This is happening to me with every show apart from 1. It was working yesterday and after reinstalling none of it will add now.
It's definitely not working. I would imagine if you removed shows then you can't find them to add them. It says it doesn't exist in the TVDB database. As I have the X saying it's failing to sync with Tvdb. I probably wouldn't remove any shows unless you have made a backup.
oh so its not just me then, I thought previously they replied that it was fixed and I thought it was just on my end. Lesson learnt dont delete. I only reinstalled to add two new shows and now ive lost them all


Is it the same problem today. This suddenly appeared and some shows wont show
Ex Peaky Blinders, The Good Palace, True Detective, etc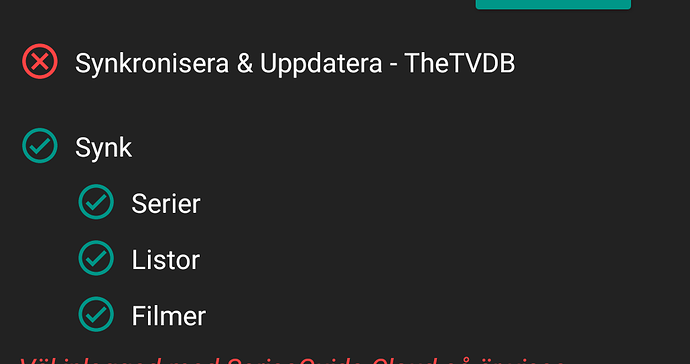 Hi there. I wanted to let you know that although my trakt.tv account is working, the TVDB isn't syncing which is causing some of my shows to be missing episodes/ show image.
I have also same problem and have that for a very long time.
Is there no solution at all to this problem?
I woke up today it see TVDB isn't syncing/updating. Does anyone know the reason
Thank you for sending me the forum. Unfortunately TVDB still isn't syncing/updating + they aren't giving any information other than they are working on it.
Do you know anything more. Thanks
I'm getting a "could not talk to TheTVDB" error when I try to add a series - is this likely to be the same issue?
Apparently TheTVDB is being hit with a lot of traffic. Latest update from TheTVDB's ChristyEzzell:
We're working at stabilizing the API, which should have improved over the past hour. Traffic has been very high today. If you are still experiencing issues, please continue to report them.
https://forums.thetvdb.com/viewtopic.php?p=172677#p172677
According to SeriesGuide error reports the issue has almost disappeared again.